Today (Friday, 15 September) brings the beginning of the thirteenth Cowbridge Music Festival – which runs until Sunday, 24 September.
The programme offers a diverse range of classical, jazz, folk and global music for the local community and beyond as the festival welcomes some of the finest international musicians to town, and offers a platform for both established and emerging Welsh musicians.
The festival aims to make great music accessible, enjoyable, and uplifting for all and is regularly broadcast on BBC Radio 3.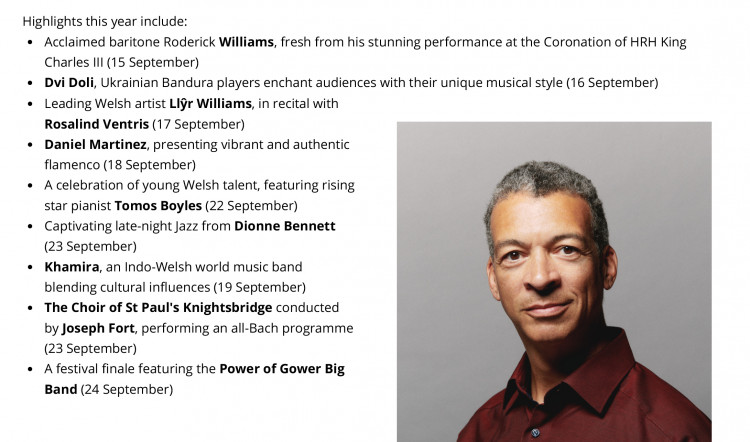 Highlights this year include: Leading Welsh artist Llŷr Williams, in recital with Rosalind Ventris (17 September) Daniel Martinez, presenting vibrant and authentic flamenco (18 September) A celebration of young Welsh talent, featuring rising star pianist Tomos Boyles (22 September) Captivating late-night Jazz from Dionne Bennett (23 September) Khamira, an Indo-Welsh world music band blending cultural influences (19 September) The Choir of St Paul's Knightsbridge conducted by Joseph Fort, performing an all-Bach programme (23 September) A festival finale featuring the Power of Gower Big Band (24 September)
The festival was first launched in 2010 and offers classical, Jazz and Folk music. Its aim is to make classical music approachable, enjoyable and uplifting for the local community of Cowbridge.
Some the recent artists who have performed at the festival are Nicola Benedetti CBE, Elin Manahan Thomas and Maya Youssef.
Along with the festival there has been an outreach programme which has reached over 10,000 pupils and the festival is very proud to have the support of the Arts Council of Wales and many local businesses.
The mission of the festival is to bring international artistic excellence to the community of Cowbridge, to inspire, educate and challenge the next generation of musicians and music lovers and to benefit the community and putting Cowbridge on the cultural map of Great Britain.