Cowbridge Llanblethian Town Council pays its respects to the late Queen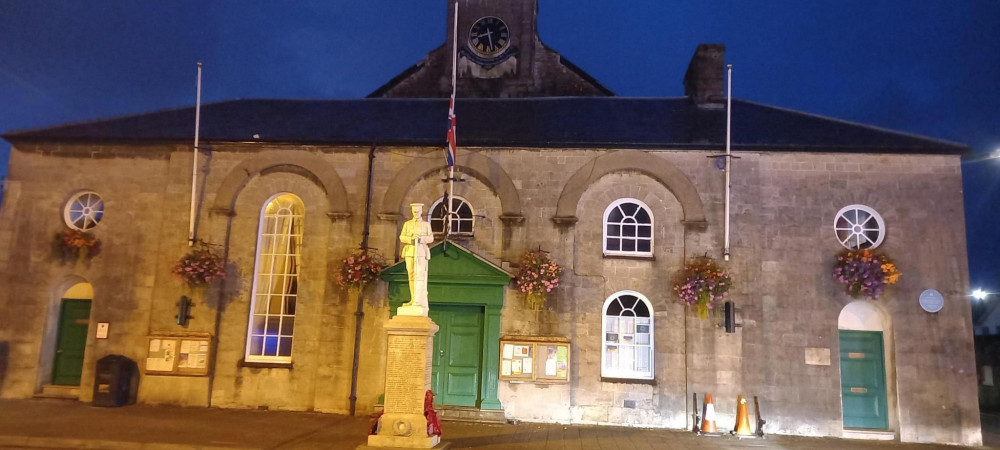 Flag flies at half-mast at Cowbridge Town Hall
Councillors and staff of Cowbridge with Llanblethian Town Council are "deeply saddened" at the news of the death of Her Majesty Queen Elizabeth II and the council will be writing to Buckingham Palace to offer condolences.
They join with the rest of the country and commonwealth in their grief, but also in celebration of her extraordinary life.
On behalf of the Town Council the Mayor will be laying a floral tribute at 2pm today (Friday, 9 September) outside the Town Hall.
A Book of Condolence will be open in Cowbridge Town Hall from 9.30am to 5pm on weekdays until the day after the funeral and members of the public are invited to record their thoughts and sympathies in the books. A selection of these messages will be passed on to members of the Royal Family. A National Condolence Book is also available to sign at www.royal.uk.
As a mark of respect, the Union Flag has been lowered to half-mast on Cowbridge Town Hall. It will be raised to full mast for Proclamation Day when the new sovereign is proclaimed.
The Proclamation of the new King will be read out in front of the Town Hall and members of the public are invited to attend. The date and time will be published as soon as they are confirmed.
After Proclamation Day the Union Flag will be returned to half-mast until the day following the funeral.
The Council will be cancelling any planned events and civic engagements as a mark of respect, until after the Queen's funeral.
Cowbridge Mayor John Andrew says: "In the 70 years that Her Majesty has watched over and dutifully served our nation, she has done so with the utmost dignity and dedication, supporting her people through times of both triumph and adversity.
"Her Majesty's sense of duty and devotion to service is an example to us all. For many of our residents, she was the only Monarch they have ever known, the one constant in all their lives that could be relied upon to rise above the differences presented by modern society and unite people throughout an ever-changing world.
"Her Majesty will be very deeply missed by the people of Cowbridge with Llanblethian.
"During this period of mourning we will be reflecting on the Queen's tremendous life of service to us here in the UK and across the Commonwealth."