Another fantastic Rotary year for Cowbridge club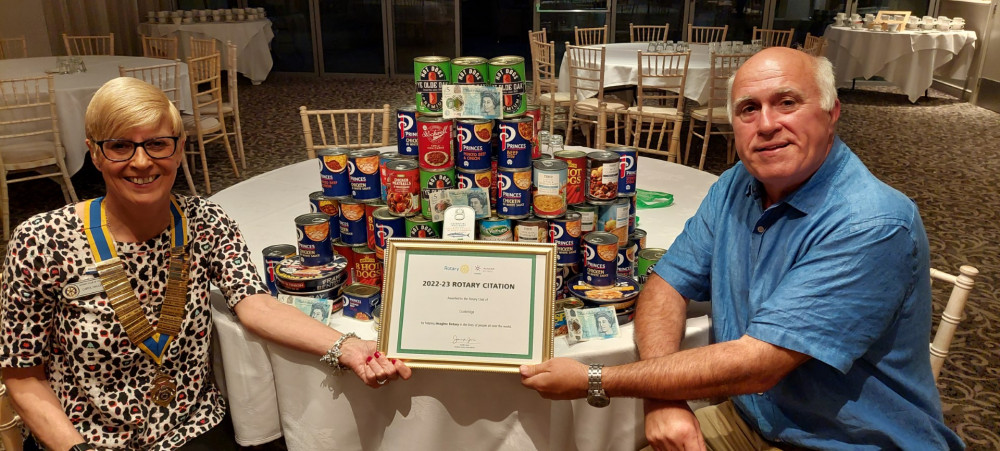 President Carol and Past President Huw, with the Rotary International Citation sat in front of 48Kgs of food collected that night from members for local Food Banks.
At the recent annual handover of office at Cowbridge Rotary Club incoming President Dr Huw Davies outlined his aims for his Presidential year, which included fundraising and community work, locally nationally and Internationally.
Through the year many different organisations received varying levels of support, such as gardening, provision of summer Outings, Afternoon Teas and entertainment along with working with schools.
Fundraising was through the club's Dog Show, Santa and his Sleigh etc.
The club set and recorded targets for the year. These were noted by Rotary International. This week, the club were recognised for its efforts by receiving "The Rotary International Citation", from International President Jennifer Jones.
Club President Carol Hallewell had the privilege on behalf of the International President to be able to present the award to Huw at the clubs meeting this week.
Carol stated "that this showed the efforts of all club members under the leadership of Huw, during a year when the club were getting back to a form of normality after the 3 Pandemic years the world had been through".
On receiving the certificate Huw ensured that the membership of the club knew that it was a team effort by stating " it is for us all and he could only thank every member of the club for ensuring that the club achieved what it set out to do".