Council commits again to armed Forces Covenant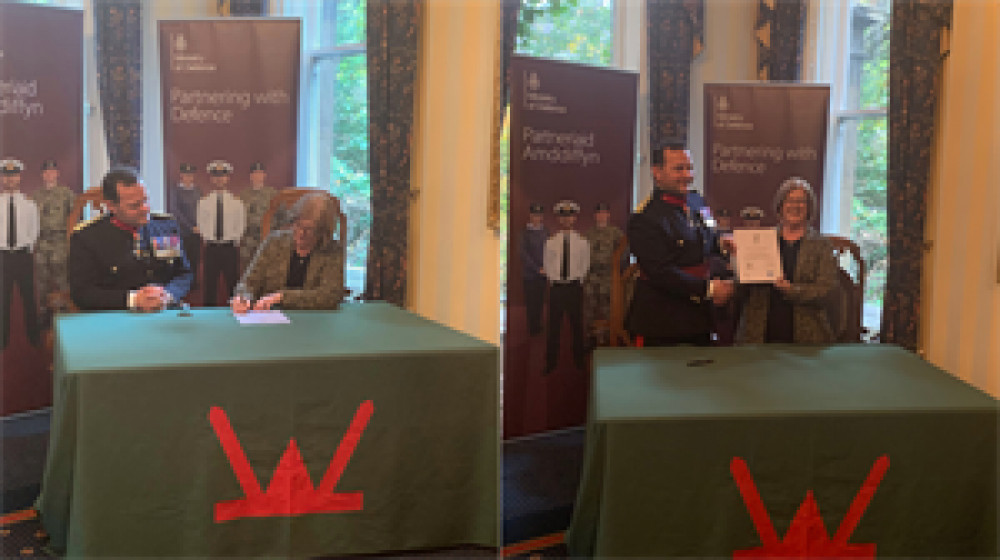 To demonstrate its allegiance to the Armed Forces, Vale of Glamorgan Council has re-signed the Armed Forces Covenant
Deputy Leader of the Council, Cllr Bronwen Brooks was joined by Brigadier Dawes, Mayor of the Vale of Glamorgan Council Cllr Susan Lloyd-Selby and Armed Forces Liaison Officer, Abigail Warburton, at a ceremony at Mansion House.
The Armed Forces Covenant is a voluntary pledge that organisations can take to demonstrate their support for the Armed Forces Community. Its principles ensures that those who serve or have served in the Armed Forces, and their families, are treated fairly and with respect.
In 2011, the Vale of Glamorgan was the first Welsh local authority to launch a Community Covenant which complements the Armed Forces Covenant at a local level. It encourages local communities to support the armed forces in their area and promotes understanding and awareness among the public of issues affecting the Armed Forces community.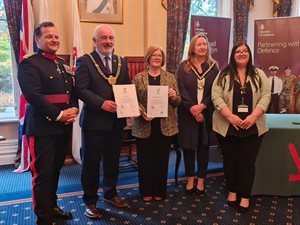 The re-signing comes as the Council is awarded a Gold Defence Employer Recognition Award (ERS). The Employer Recognition Scheme encompasses bronze, silver and gold awards for organisations that pledge, demonstrate or advocate support to the armed forces community, and align their values with the Armed Forces Covenant.
Cllr Brooks said: "I was delighted to sign the Armed Forces Covenant on behalf of the Vale of Glamorgan Council
"I am incredibly proud of the Council's dedication to supporting our Armed Forces community and believe that reaffirming our commitment has never been so important
"The Council has proudly taken a lead in advocating support for the community, being the first local authority in Wales to sign the Community Covenant, and I am thrilled that more recently the Council was awarded the Gold Employer Recognition Scheme
"A big thank you goes to all those who continue to work hard to ensure that our Armed Forces community in the Vale have access to excellent services and support."
The Vale's Veteran Advice Service provides free and impartial information, advice and support to members of the Armed Forces Community within the Vale and covers a range of areas, including Benefits, Adult Social Care, Finances, Employment and Housing. More information about the Vale's Veteran Advice Service is available on the Vale of Glamorgan Council's website.