Cowbridge's Costa Coffee Will No Longer Allow Cash, Dining-In or Reusable Cups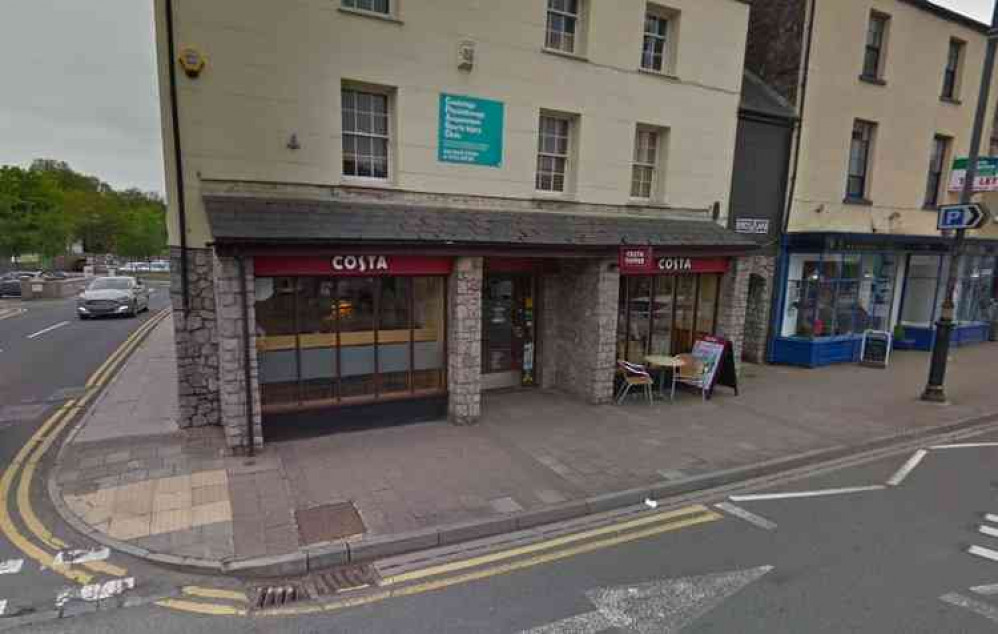 Property of Google Maps 2020
Costa Coffee in Cowbridge will no longer accept cash, have dine-in visitors and all products must be taken off-site in takeaway utensils supplied by the chain.
Jill McDonald the CEO for Costa Coffee said: ''At Costa Coffee, our number one priority is the safety and wellbeing of our team members and customers.
''As the Nation's Favourite Coffee Shop, we are committed to providing you with a clean and safe environment. The safety of our customers and our store teams is our number one priority, no more so than when operating in unprecedented times.
''As we continue to follow the advice and recommendations from the Government and health authorities, we have made several changes to our stores to help support in social distancing. We know that you will understand we are doing this because we believe it's the best and safest way to continue to serve great Costa Coffee.''
Starting from tomorrow:
• All stores will be cashless and will only accept card payments.
• All seating areas will be removed from use in stores to support government guidance on social distancing, however, our toilets will continue to be open for customers.
• We will serve all drinks in takeaway cups and food in takeaway packaging, 'dine-in' crockery will not be available.
• We won't be able to serve you your drink in a reusable cup in our stores but we will honour our 25p discount if you bring in your own cup.
• All stores will temporarily remove newspapers as we cannot clean them in between each customer handing them.
• All stores will also have a more limited food range but we will be sure to stock Costa Coffee favourites and make sure we have choice available for all dietary requirements and preferences.
• All Drive-Thru lanes will remain open as usual for those customers in vehicles but internal seating areas will be closed.
• Our Costa Express machines continue to operate up and down the country as normal for those customers on-the-go.
Jill McDonald said: ''To help minimise the spread of the virus, we are following the latest Government recommendations and asking any team member with symptoms to stay home and self-isolate for at least seven days.
''If a team member lives with someone else and they have symptoms, then we have requested that they stay home and follow the Government recommendations for household isolation.
''Whilst some of these changes will feel quite disruptive we believe they are the right thing to do for our customers and store teams.
''We are especially mindful of the move to take away only and ask that customers dispose of and recycle their Costa Coffee packaging responsibly.
''We will continue to recycle cups and welcome you dropping them back into the store, if possible.
''We thank you in advance for your support and assure you that these changes are temporary and will be regularly reviewed.
''These are difficult times and where we can provide a safe and familiar environment in your community, we hope to do so. We will continue to update you through these emails, on our website and via our social media channels.
''Thank you again for your ongoing support. Keep well.''