Community organisations in Cowbridge are honoured by the mayor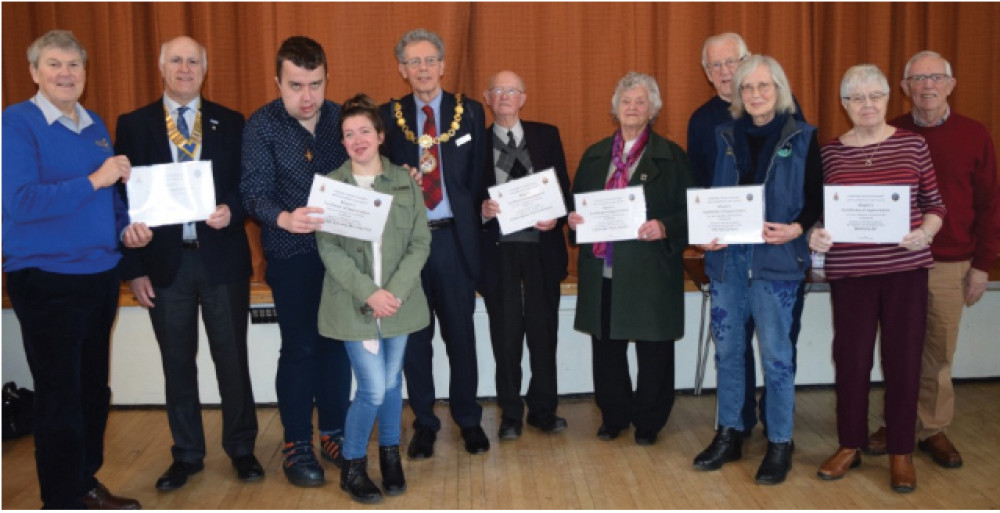 Cllr John Andrew presented local volunteers with certificates in recognition of their contribution to the local community
MEMBERS of community organisations in the Cowbridge area have been honoured by Mayor Cllr John Andrew - and their work is highlighted in this Cowbridge Nub News special feature.
At the Coffee and Drop-in morning on Saturday, 4 March in Cowbridge Town Hall six Cowbridge voluntary groups were awarded Mayor's Certificates of Appreciation by Cowbridge with Llanblethian Town mayor Cllr Andrew.
Cllr Andrew said that that more and more, perhaps driven by the media, people expect government, local and central, to organise everything and solve all problems but in fact a great many services and activities are organised and run by groups of unpaid volunteers without whom society could not function.
He said that there are some wonderful such groups in Cowbridge and during his year as Mayor he wanted to recognise some of them with a Certificate of Appreciation. He emphasised that they were his personal choice.
The six groups awarded certificates in order of age, starting with the oldest first were Cowbridge Rotary, Cowbridge Gateway Monday Club, Cowbridge & District Museum, Cowbridge Physic Garden, Old Hall Gardens and the Memory Jar.
One of the reasons for the Coffee and Drop-in mornings is to raise money for the Mayor's charities which are Barnardo's and Atal y fro. Thanks to the generosity of those attending more than £300 was raised on this occasion.
Cllr Andrew briefly described the amazing work of each of the groups and the fact that they are an asset to the community and the town.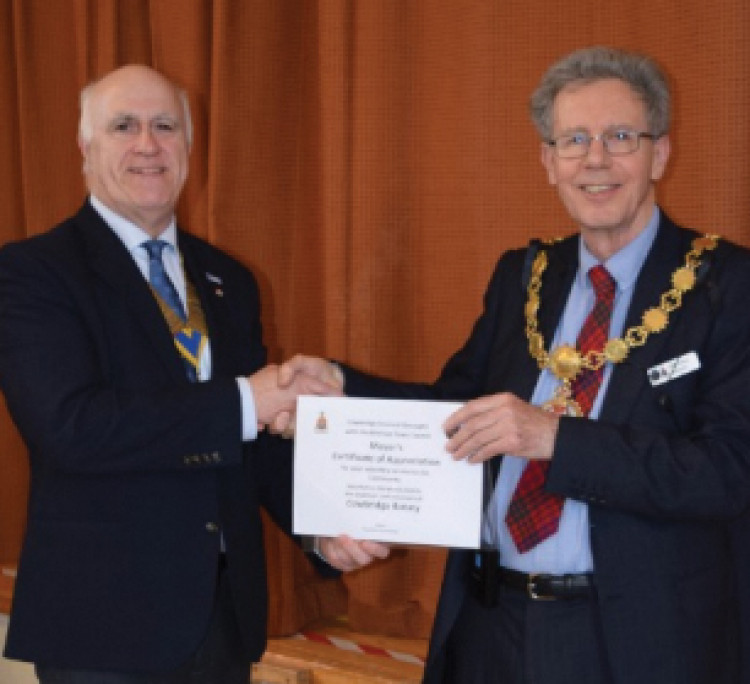 Cowbridge Rotary is one of the 46,000 local Rotary clubs within the worldwide Rotary International organisation.
Rotary is a service organisation in that they provide voluntary service to their local communities and, by working together, internationally.
Cowbridge Rotary support the local community in a wide variety is ways. For example, at one end of the age spectrum they support dementia friendly Cowbridge and the Memory Jar while at the other end of the age spectrum they work closely with schools to help young people develop their skills and achieve their ambitions.
In doing this they foster next generation of Rotarians.
As well as the service they provide physically they also do many fundraising activities to raise money to help support those in need both locally and internationally. For example: 'Charity Quiz', Christmas Santa Sleigh, Summer Car Boot Sales, a Six Nations Rugby competition, St David's Day Concert, Dog Show and Photographic Calendar Competition.
Cllr Andrew said: "I believe Cowbridge Rotary was started 63 years ago in 1960. Rotarians, men and women, are all volunteers who give of their time freely to support those less well-off on themselves."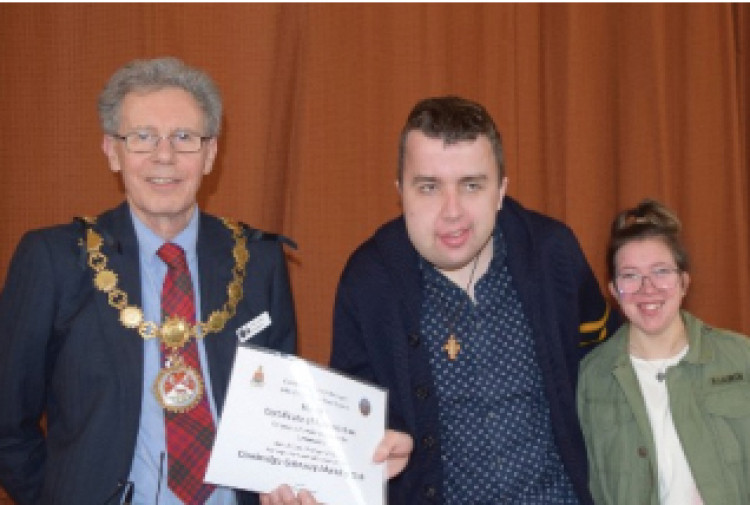 Cowbridge Monday Club are certainly deserving of a certificate of appreciation. The Monday Club or, to give it its full name, the Cowbridge Gateway Monday Club, meets in the United Free Church Hall on the second Monday of each month. Although in the summer they have some outdoor meetings and activities.
The Club is for adults with learning disabilities and provides social and recreational activities to forge friendships and importantly to give carers break.
Activities include: Indoor games, crafts and handiwork, speakers, dancing, social and educational visits; an annual mystery coach trip and an annual dinner in the Bear Hotel. I think this year it is in May. They have occasional outings. In fact I believe there is one today. I have been fortunate to go to some of their meetings and it is indeed a heartwarming experience.
Cllr Andrew said: "The Monday Club has been running now for over 40 years and I am pretty sure that some of the founders are still active in running the club. Fantastic.
"The Monday Club is supported by the Mencap organisation but depends entirely on volunteers to run it.
"I think the volunteers do a remarkable job and certainly deserve this certificate of appreciation."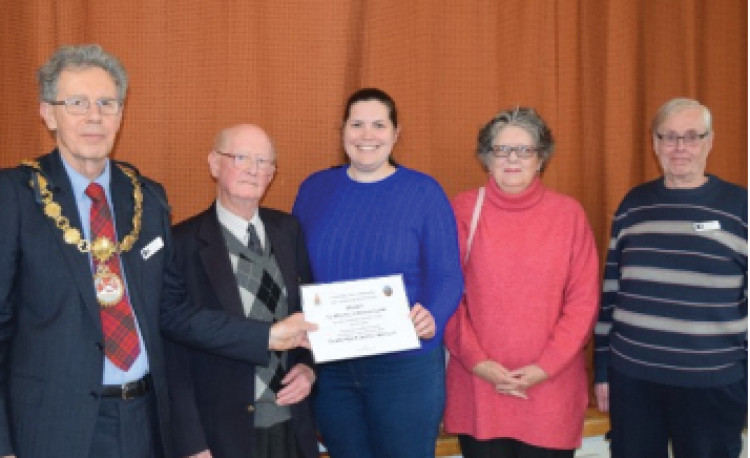 Cowbridge & District Museum is fascinating but is perhaps less well-known than it should be.
The Museum is housed in the cells of the Town Hall just below us but it is not run by the Town Council. It is run by an enthusiastic group of volunteers who open the museum on the first and third Saturdays of each month from 10:30 am to 4 pm. If you haven't visited it before it is well worth a visit.
The Museum was formed some 40 years ago in the early 1980s by a group of people who felt there should be some record of 'Cowbridge past' based in Cowbridge.
What better place than in the old cells of what was a house of correction before it became the Town Hall.
Cllr Andrew said: "I think it is very important that we have a museum in this ancient town and I am very grateful to the group of volunteers who run it.
"I believe they are looking for more people to get involved so if you think you might be interested please talk to them.
"Very well done to the organisers and volunteers of Cowbridge and District Museum, worthy recipients of this Certificate of Appreciation."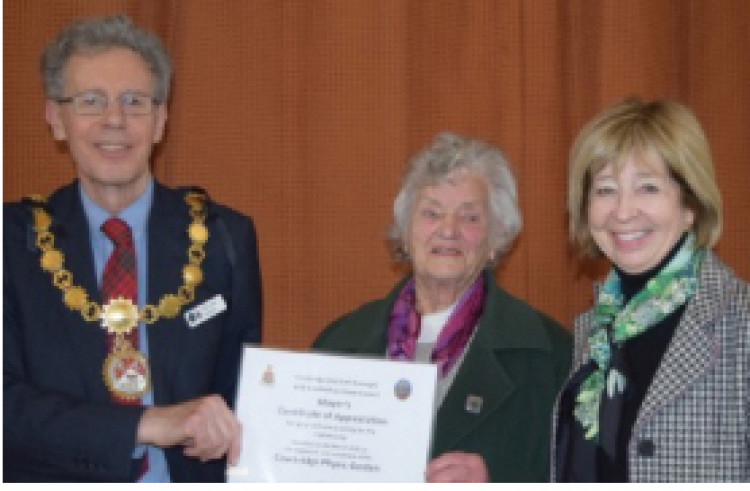 The Cowbridge Physic Garden is a beautifully maintained haven of peace within the centre of Cowbridge and something which attracts many visitors to the town.
What many of these visitors, and probably many residents, do not appreciate is that the garden is maintained entirely by volunteers.
The story of Cowbridge Physic Garden started In 2004 when a group of volunteers had the vision to transform a neglected, overgrown wilderness. The Vale of Glamorgan Council, which owns the land, gave its support and Cowbridge Physic Garden Trust was set up to carry forward the project initiated by the South & Mid Glamorgan Branch of the Welsh Historic Gardens Trust.
The project required variety of skills such as historical research, fundraising, construction and gardening of course.
Most of the work was carried out by a group of enthusiastic and committed volunteers.
In June 2008 the Physic Garden was officially opened by the then Duchess of Cornwall. Volunteers have since maintained the garden to an exceptionally high standard, something recognised by the garden winning Green Flag Awards for each of the past nine years and receiving the highest accolade in the RHS Wales in Bloom 'It's your neighbourhood' category.
Cllr Andrew added: "It is a wonderful asset to have within the town.
"Congratulations to the organisers and volunteers of the Cowbridge Physic Garden. I am delighted to award them with a certificate of appreciation."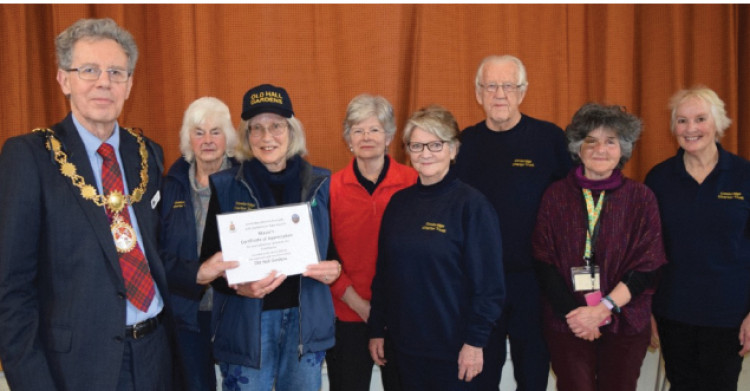 The Old Hall Gardens with pond, trees, shrubs and flowers is one of the delights of Cowbridge.
What many people perhaps do not realise is that it is also maintained entirely by volunteers.
The gardens are owned by Vale of Glamorgan Council but are leased to the Cowbridge Charter Trust which, as one of its projects, took over the care of the gardens in 2011.
Since then they have been much improved and are now a wonderful asset to the town linking beautifully to the adjacent Physic Garden.
Cllr Andrew said: "All this has been done by a band of volunteers who meet, I believe, each Thursday to carry out whatever work is necessary to continue to maintain and further improve the gardens.
"I think we can all agree that we are all very fortunate indeed that as a result of their voluntary work we are able to enjoy the gardens and delight in how they change during the seasons.
"Their efforts have been recognised by a number of awards including the green flag award and I am delighted to award them with a well deserved certificate of appreciation."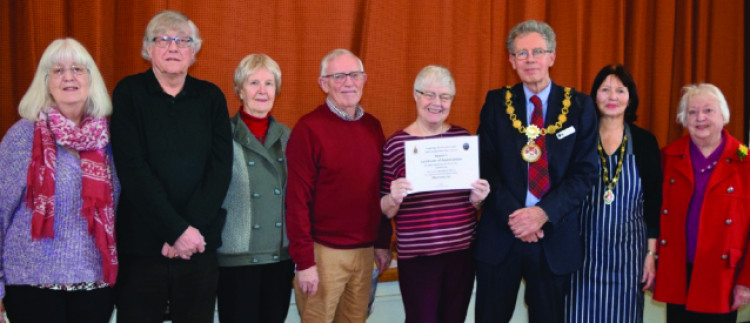 The Memory Jar meets in the United Free Church Hall at 2pm on first and third Tuesdays of each month. It provides a meeting place for those with mild to moderate dementia and their carers, where people can share memories, meet new friends, have a friendly chat, play games, enjoy a cup of tea and a piece of cake and generally have fun all in a caring and supportive atmosphere.
The Memory Jar was founded nearly six years ago by Madeline and Colin Phillips.
hey are still the driving force behind it but they are supported by a large group of regular volunteers. With others, they have helped to change the profile of dementia in the town, which is now designated as dementia-friendly.
Cllr andrew said;" I was recently invited along to one of their meetings as the Mayor and was most impressed by the friendly and caring atmosphere.
"I think it is a wonderful organisation and I am sure that all those who attend to derive great benefits from it. The organisers and volunteers certainly deserve this certificate of appreciation."