Cowbridge U3A monthly meeting hears stories out of africa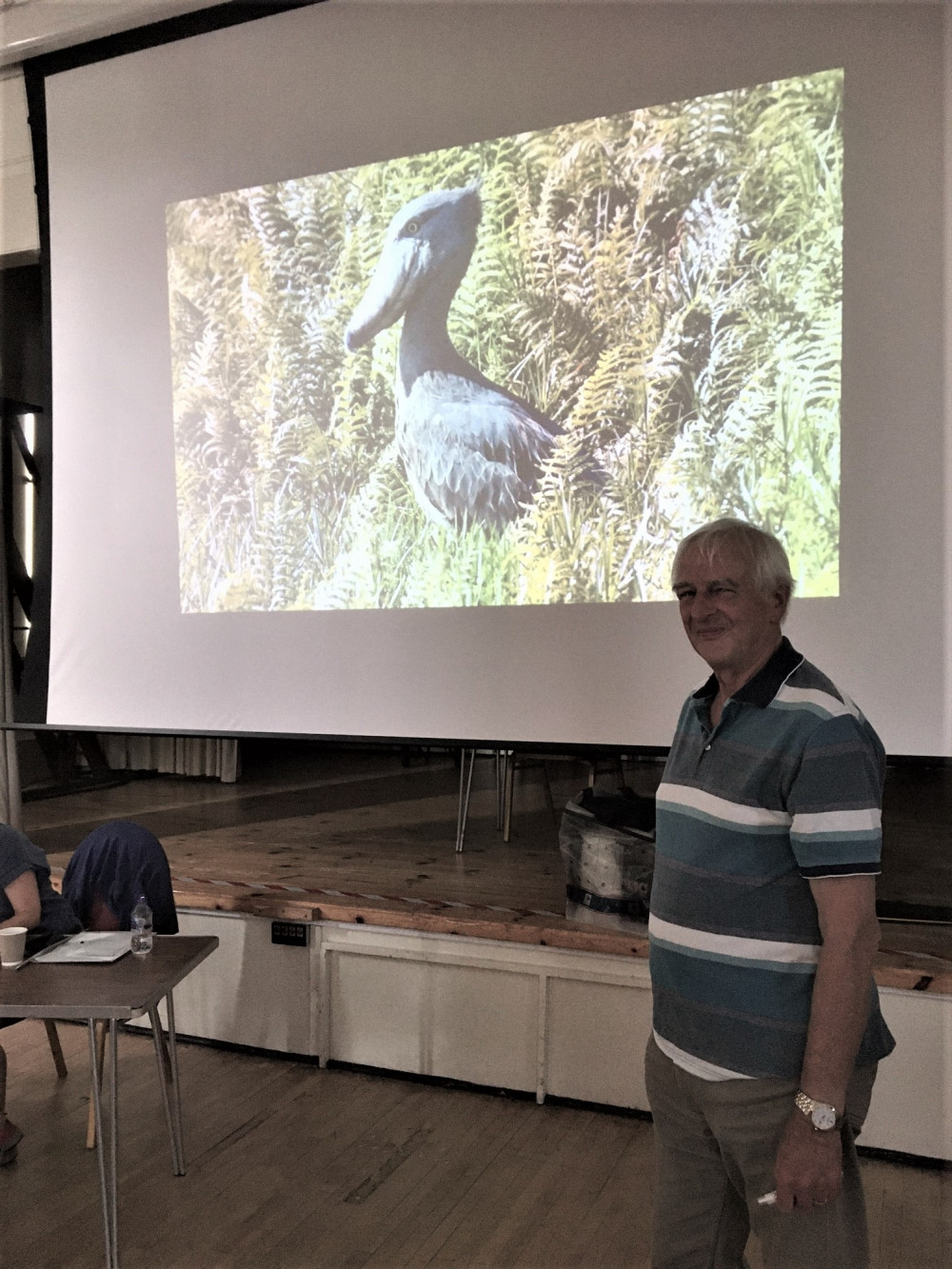 John Wilson with a Shoebill in the background
Cowbridge U3A welcomed John Wilson to their monthly general meeting last Wednesday to give an illustrated talk on the wildlife of Uganda.
John has always been interested in nature in general but his birdwatching interest started when his wife bought him a pair of binoculars for a wedding present.
He moved to Wales 30 years ago and has been involved with the Glamorgan Bird Club for most of that time. For many years he organised the club field trips, and has been editor of the GMC annual bird report for over 20 years and is still active in the Bird Club.
He retired in 2005 and, with his wife, took the opportunity to travel and has been on a number of organised birding trips overseas.
The trip to Uganda was one of these but, not confining their interest to birds one of the attractions was the opportunity to trek into the forested mountains for a face-to-face encounter with gorillas. Of the approximate 700 wild gorillas in the world, about half live in the Bwindi forest, between 3000 and 8000 feet above sea level. After an arduous trek through the near impenetrable bush, John was rewarded with a close encounter with a gorilla family group.
Staying in game lodges, he visited a number of national parks, crossed the White Nile, took a boat trip through a swamp and trekked into the Bwindi forest. All the time taking magnificent photographs of birds, reptiles and mammals including the rare Rothschild giraffe, elephants and a variety of antelope.
The talk was informative, entertaining and much appreciated by the attending members.
Cowbridge U3A hold a general meeting on the second Wednesday of the month at Cowbridge Town Hall. The next meeting will be on 12th October at 2.00 PM. The speaker will be David Crompton and his subject will be "The Cardiff Bay Barrage". Entry is free for members and visitors are welcome on payment of a fee of £3.