Mayor of Cowbridge "Delighted" with Festive Coffee and Drop-in morning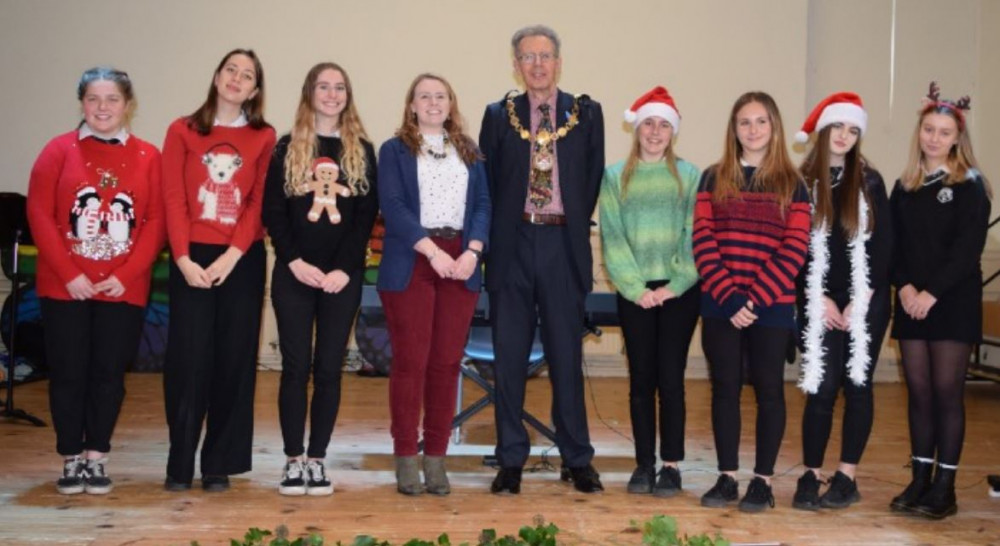 The Mayor of Cowbridge with Llanblethian, with the Head of Music, Miss Rhian Hughes, and students from Cowbridge Comprehensive School. Photo by Mike Wilcock
The Mayor of Cowbridge with Llanblethian was "delighted" to welcome the Head of Music, Miss Rhian Hughes, and seven students from Cowbridge Comprehensive School to the Coffee and Drop-in morning on Saturday 3rd December 2022 in Cowbridge Town Hall.
In the decorated hall, with Santa, attendees were "wonderfully" entertained with a selection of Christmas carols, old and new, including two solos by Miss Hughes and one of the students.
The usual raffle was held. This month the star prize was a £50 voucher kindly donated by The White Lion in Ystradowen.
The raffle plus donations for coffee, cake raised £238 for the two Mayor's charities, Barnardo's and Atal y fro.
One of the participants said:
"The coffee mornings are a great way not only for councillors to meet people but also for people to come have a warm, a hot drink with cake (The Mayor, for a donation of what they can afford) and chat to people."
The Mayor, Councillor John Andrew said:
"It was a delightful start to the festive season.
"The next Mayor's Coffee and Drop-in morning will be on Saturday 7th January 2023 at Cowbridge Town Hall.
"The theme will be New Year's resolutions. Not personal ones but ideas for 2023 for Cowbridge, Llanblethian and Aberthin.
"We hope to see you there. Everybody is most welcome.
"Thanks to everyone who supports and helps with the coffee mornings and best wishes to all for Christmas and the New Year."