100 years old and Norman can reflect on a lifetime of service to King, Queen, country and community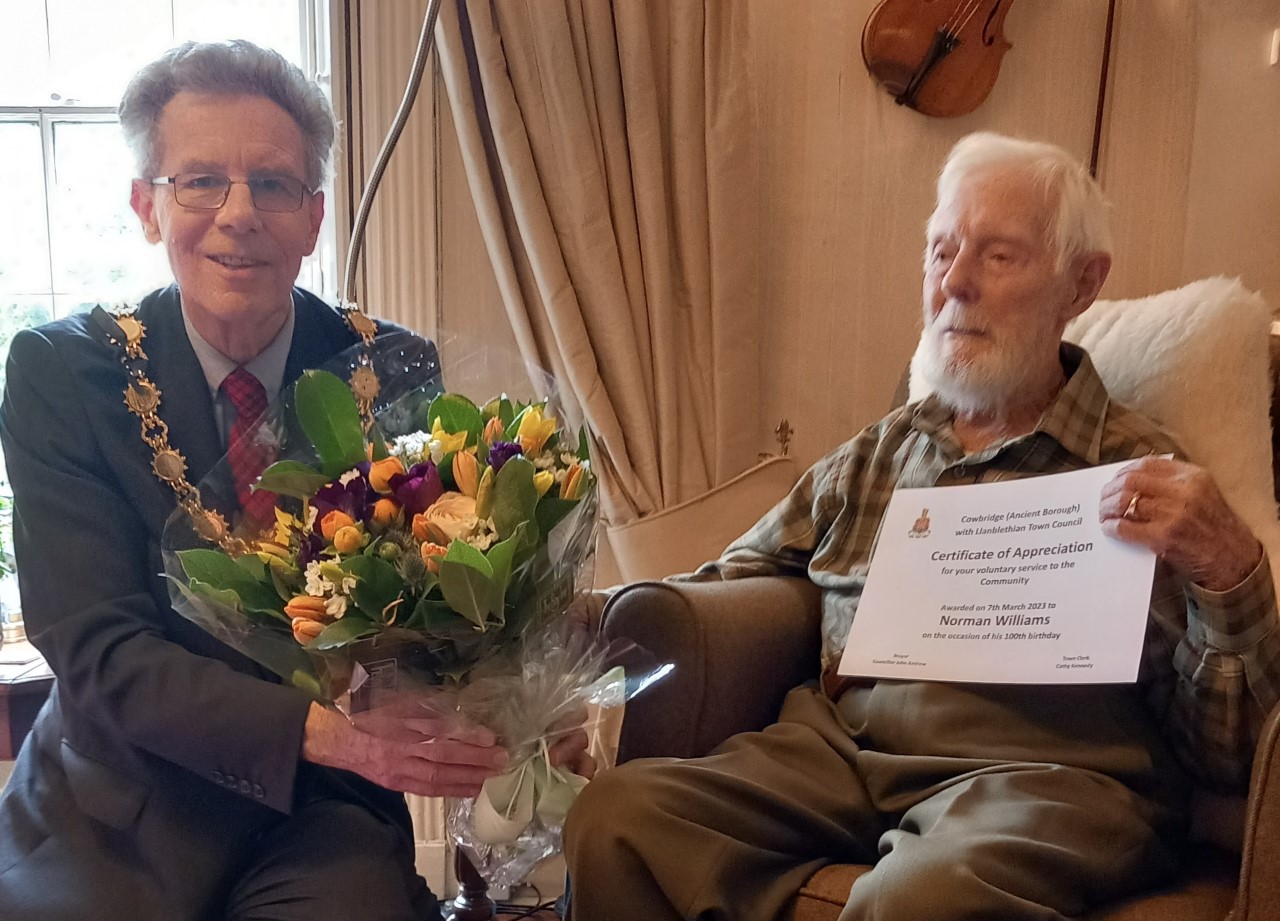 Mayor Cllr John Andrew presents a certificate of recognition to Norman.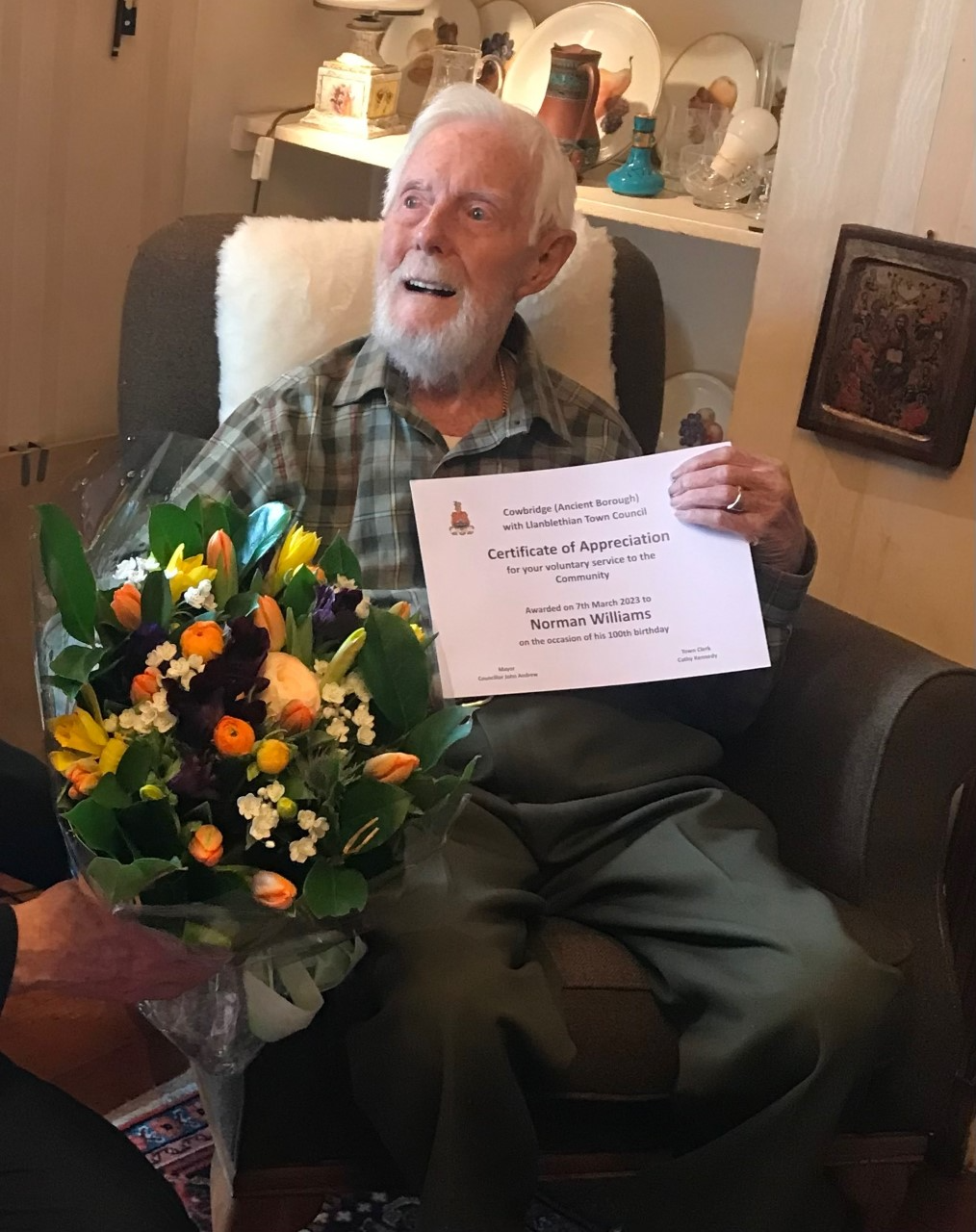 A joyful Rev Norman on his 100th birthday.
The life of a centenarian who has given decades of service to Cowbridge has been celebrated and honoured with a presentation from the town's mayor.
Norman Williams was born in Whitchurch, Cardiff on 7 March 1923 and celebrated his 100th birthday on Tuesday, 7 March.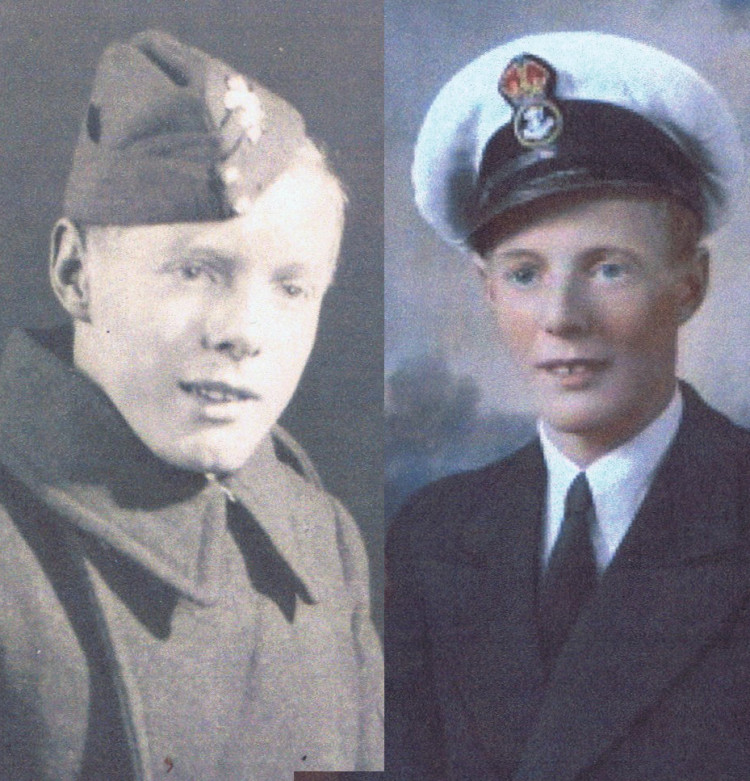 Norman aged 18 (left) and 19.
He was 16 when war was declared in 1939. He volunteered at the start of war but was not accepted initially because he was in a reserved occupation working in Cardiff docks as an apprentice electrician.
However, aged 18 he became a Sergeant Gunner in Pen-Y-Lan, Cardiff eventually joining The Royal Navy and soon gaining the rank of Petty Officer. His experiences and postings during this time were both wide-ranging and demanding.
After the war, in 1949, he married Betty Apjohn, also from Whitchurch.
While working during the day and studying in the evenings, he qualified as an Electrical, Mechanical and Marine Engineer and worked as an Electrical Rotating Machines designer in a brand new building in Maes-Y-Coed Road, Cardiff. The company was bought out and he transferred to Loughborough as Chief Designer, Light Machines Division.
In the mid to late 1960s he was recruited by Tuscan Engineering, Bridgend, manufacturers of generators and small motors. It was at this time that he and his family moved to Cowbridge.
During these early days in Cowbridge, Norman became a founding member of Cowbridge Rotary Club, also becoming secretary.
Based on his ability in this role, he was encouraged to stand for election to Cowbridge Borough Council in 1970. In this he was successful even topping the poll!
At this time Cowbridge Borough Council were responsible for pretty much everything within Cowbridge except for education which was the responsibility of South Glamorgan County Council.
However, Cowbridge was just the 85 acres bounded by the bypass in the North and the old town walls in the South. The population was about 1,500.
Soon after becoming a councillor, Norman learned of a plan by South Glamorgan County Council to close secondary education in Cowbridge and transfer pupils to Llantwit Major.
Norman was determined that this should not happen and, together with his wife Betty, Norman started a vigorous campaign engaging with the local press, MP and Secretary of State for Wales as well as raising a petition signed by more than 3,000 people finally resulting in the retention of secondary education and, eventually, a new comprehensive school for Cowbridge.
Other things for which Norman was largely responsible during his time as a borough councillor were the creation of the Mayor's Parlour, the creation of Twt Park and the organisation of the event to award the Freedom of Cowbridge to RAF St Athan.
As a result of local government reorganisation Cowbridge Borough Council ceased to exist in March 1974 with the responsibilities and assets being taken over by the new Vale of Glamorgan Council.
However, Norman was determined that Cowbridge should retain some of its assets, traditions and status. After some difficult negotiations he secured the Town Hall, the War Memorial, the Regalia and Twt Park.
He also obtained agreement that the new Council be called Cowbridge Town Council (formerly Ancient Borough), that it be the custodian of the 1884 Victorian Charter and retain its armorial bearings. To achieve this he had to personally take the Charter to London Garter King of Arms and write to the Queen.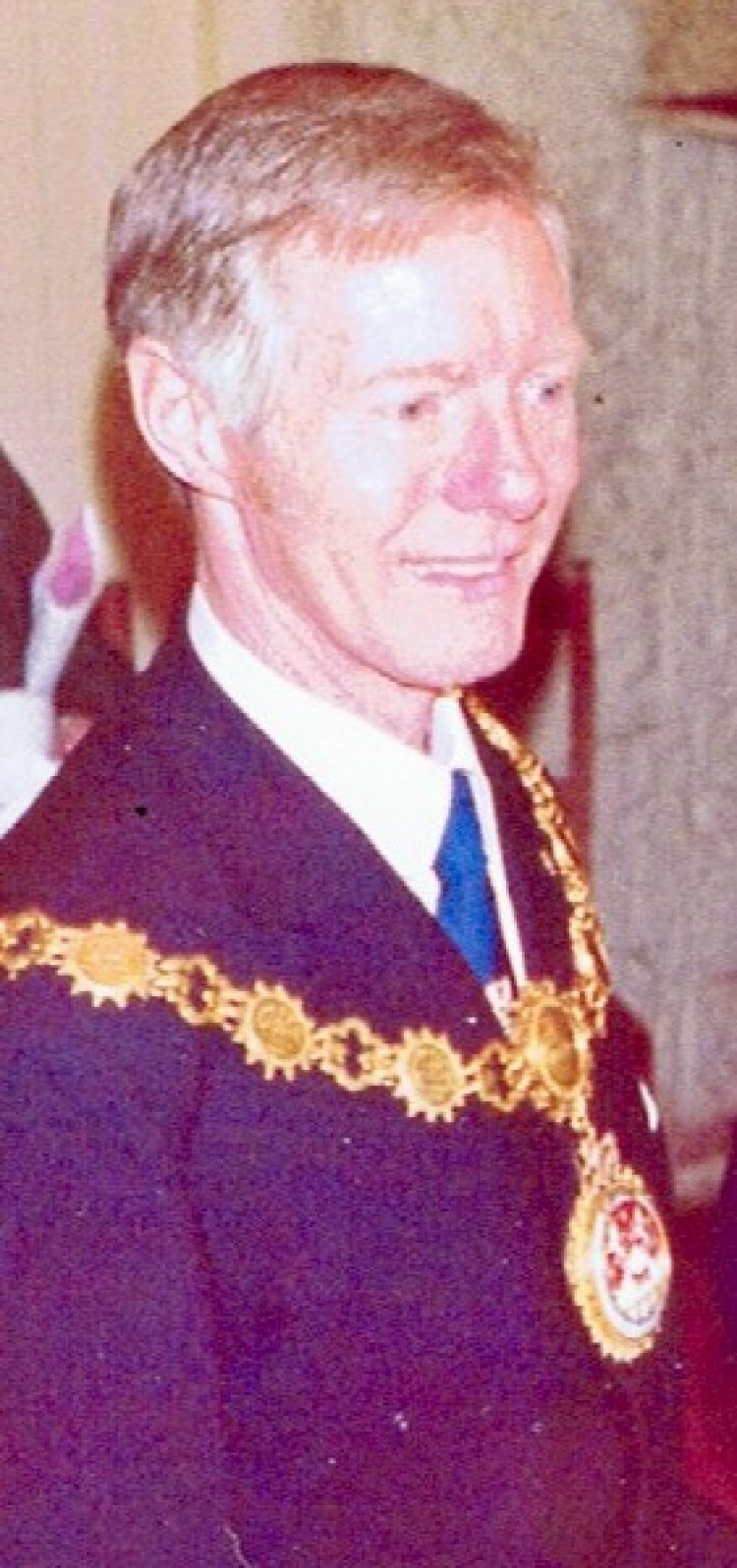 Norman was mayor in 1974.
In April 1974 Norman became the first Mayor of this new council and served in that position for two years.
During his years on the Town Council, Norman, together with the Vale of Glamorgan Council was involved in the planning and opening of the Health Centre and Cowbridge Library on their original site in Old Hall Gardens.
Norman particularly remembers his pleasure in founding Cowbridge History Society in 1974, the first meeting of which was held in the Council Chamber 50 years ago next year.
The Society has gone from strength to strength and is still a thriving organisation. Having joined with Cowbridge Record Society, it now has over 90 members. Norman is still Honorary President today.
In the late 70s, Norman, who had always been very much involved with Holy Cross Church and encouraged by the late Rev. Stan Mogford, studied to become a priest, a role for which he is probably best known today.
After four years intensive study and while still working for Tuscan Engineering, he was ordained in 1983 making this year the 40th anniversary of his ordination.
He was very active in this role taking the full range of services, including officiating at the Cenotaph on Remembrance Sundays until the age of 94!
He was also Chaplain to the local branch of RN Coastal Forces and Chaplain to the Cowbridge British Legion.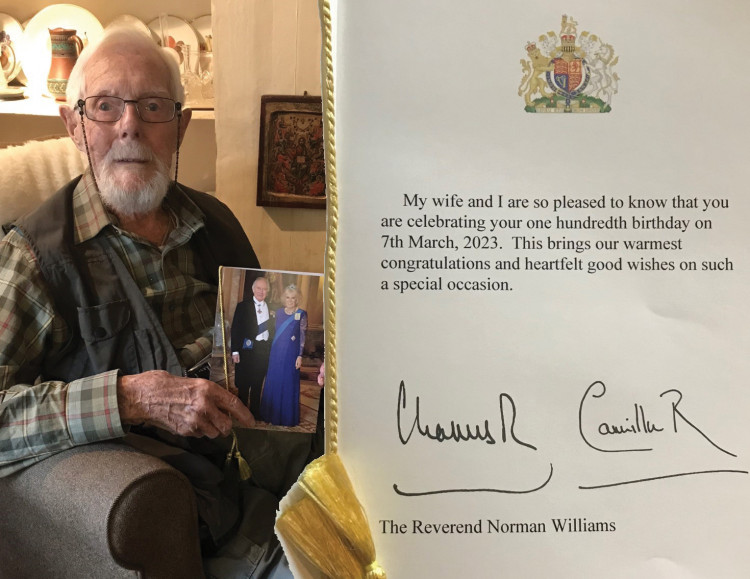 Norman with his card from the King and Queen Consort.
Current Cowbridge mayor Cllr John Andrew presented Norman with presented Norman with a birthday card, a bouquet of flowers and a Certificate of Appreciation on the occasion of his birthday.